Project Sponsor:
Damariscotta River Association
MNRCP Region:
Central Interior and Midcoast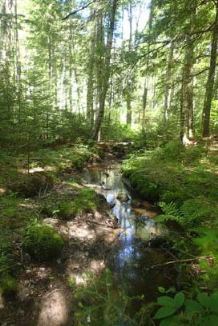 Project Description:
This project consists of a 91-acre parcel of land located off of River Road in Newcastle, Maine. The north side of this parcel borders Baker Forest, a 165-acre forest property that is currently owned and managed by the Damariscotta River Association (DRA). Less than a mile south of this parcel lies the River Link project, which now includes over 600 acres of unfragmented forests. However, the south side of the parcel borders a small neighborhood, making in this land significantly vulnerable to development in the near future. Conservation of this property would not only safeguard on-site wetland resources, but also eliminate development threats that could degrade the adjacent state-owned and DRA conserved lands and wetlands. Additionally, this project represents a key opportunity to further the success of the 2001 River Link project, which was initially funded by Land for Maine's Future to address habitat and recreation connectivity in the Midcoast area. This property will be managed for ecological functions and low-impact recreation. The goal of future management will be to preserve the parcel's high ecological integrity by removing any invasive species present, and actively monitoring the health and function of the wetlands and river present on site.