Project Sponsor:
Kennebec Estuary Land Trust
MNRCP Region:
Central Interior and Midcoast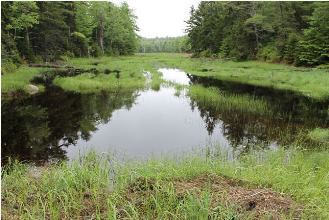 Project Description:
The Little River Habitat Restoration Project removed a barrier to restore tidal flow to the upper Little River salt marsh. Flow was restricted by a derelict causeway on property conserved by the Kennebec Estuary Land Trust. The project removed the causeway, re-connecting approximately 2,000 feet of tidal channel and restoring hydrologic function to 13.2 acres of estuarine wetland. The introduction of greater tidal flow to this area will increase salinity, reduce or eliminate the invasive common reed Phragmites australis, and restore natural ecological function of the upper salt marsh.